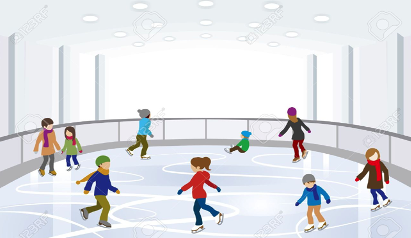 SALISBURY RECREATION PUBLIC SKATING AT THE HOTCHKISS SCHOOL DWYER RINK
WHERE: HOTCHKISS SCHOOL DWYER RINK
WHEN: SATURDAY'S 10:30AM-11:30AM
JANUARY 6, 13, 20, 27
FEBRUARY 3, 10, 17, 24
COST:                        $5.00 PER PERSON, PER SESSION OF USE – PAID AT THE DOOR
CONTACT: LISA MCAULIFFE, 860-435-5186 or
EMAIL: [email protected]
CANCELLATIONS DUE TO WEATHER ARE POSTED ON THE TOWN WEBSITE www.salisburyct.us/recreation
PUBLIC SKATE GUIDELINES
No loitering outside the rink all participants should be inside the rink and spectators in the bleachers.
Smoking, vaping and use of any tobacco product is prohibited inside the rink and on the Hotchkiss Campus.
Please avoid sitting on or climbing over the rink rails.
Skate in line of direction only. The line of direction changes every 15 minutes on the whistle.
Skate slowly and under control, please avoid racing or skating out of control.
No games on the ice, hockey pucks and sticks are prohibited.
Coned area in the center of the ice is the designated learning space
Wear protective equipment, helmets, gloves, and elbow pads are recommended.
ALL PARTICIPANTS MUST WEAR SKATES ON THE ICE. SHOES ARE NOT PERMITTED ON THE ICE.