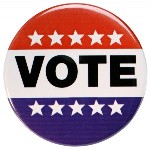 Email: [email protected]
Phone: 860-435-5175
Office Hours: Wednesdays, 9am-12pm
The Registrar of Voters office is located on the second floor at Town Hall, 27 Main Street, Salisbury, CT. The office is accessible to anyone who needs to register to vote or change their registration on Wednesdays from 9am to Noon. Should you need to register at any other time you may register in the Town Clerks office Monday through Friday from 9am to 4pm.
---
To vote at Town Meetings:
1. You may vote if you are an elector of the Town of Salisbury.
2. You may vote if you are a citizen of the United States, age eighteen or older, who, jointly or severally, is liable to the Town of Salisbury for taxes assessed against you on an assessment of not less than $1,000 on the last-completed grand list of the Town.
3. Corporations, limited liability companies, partnerships, trusts, and other legal entities are not citizens of the United States and therefore are not eligible to vote.

"Sec. 7-6. Eligibility to vote. At any town meeting other than a regular or special town election or at any meeting of any fire, sewer or school district or any other municipal subdivision of any town incorporated by any special act, any person who is an elector of such town may vote and any citizen of the United States of the age of eighteen years or more who, jointly or severally, is liable to the town, district or subdivision for taxes assessed against him on an assessment of not less than one thousand dollars on the last-completed grand list of such town, district or subdivision, or who would be so liable if not entitled to an exemption under subdivision (17), (19), (22), (23), (25) or (26) of section 12-81, may vote, unless restricted by the provisions of any special act relating to such town, district or subdivision."